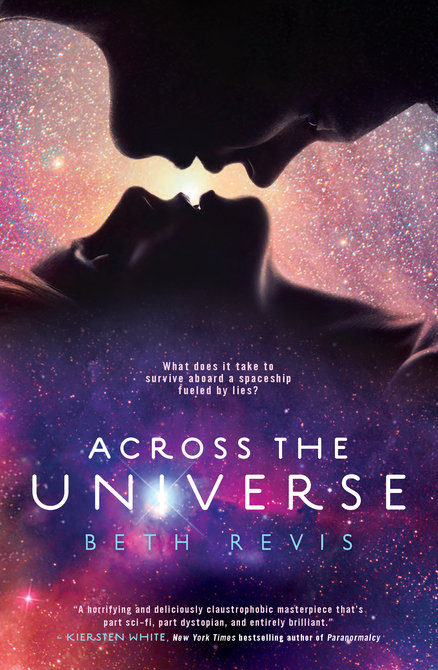 Seventeen-year-old Amy joins her parents as frozen cargo aboard the vast spaceship Godspeed and expects to awaken on a new planet, three hundred years in the future. Never could she have known that her frozen slumber would come to an end fifty years too soon and that she would be thrust into the brave new world of a spaceship that lives by its own rules.
Amy quickly realizes that her awakening was no mere computer malfunction. Someoneone of the few thousand inhabitants of the spaceshiptried to kill her. And if Amy doesnt do something soon, her parents will be next.
Now, Amy must race to unlock Godspeeds hidden secrets. But out of her list of murder suspects, theres only one who matters: Elder, the future leader of the ship and the love she could never have seen coming.
Asma's Review:
This books is very creative. Beth Revis pretty creates a whole new world based on mundane technology, while orchestrating a pretty intense mystery. The narrative point of view goes back and forth between Amy and Elder, which is great because you're pretty much in Elder and Amy's head.
But to be honest, I didn't really like Amy. She was childish and pretty hard headed, Elder's need to please her was pretty annoying and unrealistic. Also, his obsession with her red hair kind of made me feel like Elder was an obsessed little boy who was onlt attracted to Amy because she looked different. I'm probably not the only one who will say that Harley, Elder's best friend, was my favorite character.
The book sports multiple themes, the main one being is maintaining piece worth your individuality? My answer would be yes since
surviving
was sort of the main goal. But nonetheless, it was an interesting read.
The ending was sort of lame. I never really believed in Elder and Amy's relationship so I found it awkward most of the time. The answers to the multiple mystery's aboard the ship were answered and I kind of thought some of them were just too simple.
But when I closed the last page of the book, I still had that "I just read a book *sigh*" feeling.
I do wonder how the rest of Elder and Amy's lives would be spent, especially since they've got a long way to go. So if I was given a sequel, I would read it.

For a YA Sci-fi book, it wasn't that bad. Some of the aspects of the book were annoying, but bearable. I would recommend it because it is a very intriguing novel, which is why I'm giving Across The Universe by Beth Revis the Gold Moody Seal of Approval.
Side note: The cover is very cool, especially since it's sort of a dual cover. You can flip sides and the cover becomes a map of the ship!
Across The Universe official website.