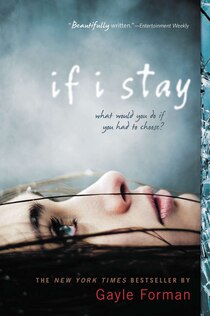 In the blink of an eye everything changes. Seventeen-year-old Mia has no memory of the accident; she can only recall what happened afterwards, watching her own damaged body being taken from the wreck. Little by little she struggles to put together the pieces - to figure out what she has lost, what she has left, and the very difficult choice she must make. Heart-wrenchingly beautiful, Mia''s story will stay with you for a long, long time.
This is one of those books. It isn't the kind you store in the back of your bookcase because you feel it's an immature YA novel. It is the exact opposite. It's the kind of book you leave on the coffee table or in the prime spot of your bookcase. Mia's life has made a complete 180 in the span of 24hrs, and nothing will ever be the same. At this point, she has to make the biggest decision of her life. Bravery versus giving up. You witness Mia find out her life has been shattered, and watch her as she tries to figure out if it's worth picking up the pieces.
This is a one of a kind YA novel, it's a tragic story filled with love, so much love, passion, and realistic characters. We go back in time, reading of Mia's past, her regrets, the people she loved and everything in between. And the people who want her to stay.
It is a beautifully written captivating novel. If you have a chance, I definitely suggest you read it. It will stay with you, for a very long time.
*I was listening to my iTunes on shuffle and this song came on, music is a big part of the book and I thought it had a lot in common with Mia's story.
Where She Went
(possible spoilers *scroll down to safety*)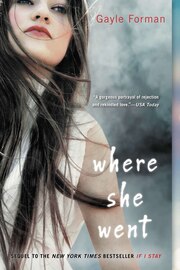 It''s been three years since the devastating accident . . . three years since Mia walked out of Adam's life forever.

Now living on opposite coasts, Mia is Juilliard''s rising star and Adam is LA tabloid fodder, thanks to his new rock star status and celebrity girlfriend. When Adam gets stuck in New York by himself, chance brings the couple together again, for one last night. As they explore the city that has become Mia''s home, Adam and Mia revisit the past and open their hearts to the future - and each other.

Told from Adam''s point of view in the spare, lyrical prose that defined If I Stay, Where She Went explores the devastation of grief, the promise of new hope, and the flame of rekindled romance.
I found myself liking Where She Went just as much as I liked If I Stay, if not more. You'd think it would be a little self-righteous, a bit too typical, but no. Forman stays true to her beautiful writing, Adam's point of view is lyrical, sad, and realistic. It's a great sequel to If I Stay, with the same vibe and flow. Where She Went wasn't a let down in any way.

These two novels are beautiful, tragic, sad but still inspiring, hopeful and passionate. It's a great read that you should definitely check out. Platinum for both of the novels.