Estella's magical life as an orphan was never easy, and at eighteen, she is finally free. In her desperate attempt to leave the city behind and unravel her strange talents, she flees to a secluded college nestled deep in the forests of the North Cascades. It is here that she hopes to escape her painful life, and forgotten past. As classes begin, Elle struggles to find her place, until she meets Professor Edgar. Young, handsome, yet terrifying, Elle is suddenly intrigued. Despite her fear of him, she finds the strange attraction mesmerizing, dangerous, and somehow familiar. As their acquaintance grows, she is suddenly drawn further into a life she never knew she lived, in a place that finally feels like home. As her happiness returns, so do the demons of her forgotten past. It is here that she finds herself faced with the sacrifice of her life, and the beginning of a journey deeply rooted in our existence.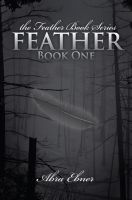 I was pretty intrigued with this book when I first got it, but once I actually started it I found myself struggling to pay attention and to keep going with the book. Normally, I'm sucked into the world the author describes in their book, but with Feather, I found my mind wandering and at times I just skimmed. While reading the book, I felt like there wasn't much hapening, it wasn't until I neared the end of the book that things started to pick up and even then it was pretty bleak.
I don't think it was because the writing was bad, it was actually pretty exceptional, I think it was because there wasn't much going on to evoke the senses. I didn't feel connected to Estella in any way and I didn't really believe her love with Edgar because it was somewhat rushed and very vague. Anyone who has read the book could probably guess why though. Often times, the reader was left out of the story as if it were an inside joke. The cover is pretty cool and all but I don't think there is enough detail. I've been stuggling to continue this book for almost a month now (I know that's pretty sad) but I pretty much forced myself to keep going.
The book wasn't
that
bad but I definetly wouldn't pick it up again to reread it.
I think that's why I'm not going to give Feather, the Moody Seal of Approval.
Read more on the Feather Book series @ http://www.featherbookseries.com/