(First &last time I talk about this chick)
It seems that Miley Cyrus has once again become relevant.
As swift as she made her Hanna Montana millions, Miley's Summer jam "We Can't Stop'' took over radio stations and wouldn't stop annoying you on Vevo. She's has always been clouded in controversy, even as a pre teen on a Disney show, and her own reveal of racy pictures which happened quite a few times (seriously, and it was literally just a reiteration of "wow whO Is My daUGHTER goOING TO LOOK up 2 NOW?").
She then went through the whole "Im a young adult now, can't be tamed, I am one with my sexuality" phase which casually ended with her of disappearing from the lime light.
But now she's back. And she's everywhere. Which means people are talking about her all the time, and I hate to fuel the really annoying fire but I have to talk about this because its so incredibly frustrating.
Miley's VMA performance is probably one of the things that caused people to really take a look at her and start talking about her. Let's be honest, it wasn't great. In fact, it was difficult to watch. Was it because she was wearing some weird outfits? Uh...That's subjective, and her prerogative. Was it because the vocals weren't great? Well, MTV isn't exactly known to showcase the most A+ acts (see:
I'm not going to add more VMA pics because tbh they just make me sad
That Awkward Moment When Selena Gomez Suddenly Decided She Was Indian at the MTV Movie Awards). Well what was it?
For starters, Miley Cyrus does not owe your children anything. Miley is clearly comfortable with displaying her sexuality and showing it off, which is a-okay for plenty of people in the world. But maybe you're a bit more conservative and would rather see sexuality treated as something more personal, which is fine! So? It isn't up to her to instil your values into your children. That's your job. But as a society, we're the people who made her famous and it's probably because she corresponds to some ideology that our society hates/loves. Her grinding on Robin Thicke? I mean, it was unfortunate to witness and all...but Robin Thicke wasn't stopping her. He's just as responsible for that train wreck as she.
Miley followed up her smash single "We Can't Stop" by stripping down and supporting Robin Thicke to perform his Summer jam "Blurred Lines" (which was so random, Pharrell was right there in the audience, he was right there) AKA THE RAPIEST AND MOST OBJECTIFYING SONG WE'VE HEARD IN A WHILE (THAT IS TRULY SAYING SOMETHING). Robin Thicke came out with his Beetlejuice-esque suit (which I think caused my Beetlejuice nightmare the following night: he tried to kill me) and that's when we found out the answer to a question you may have asked yourself while pondering the philosophical lyrics to We Can't Stop. "It's our party we can do what we want" oh yeah? Who's party is it really? Answer: The white man's.
Which brings me to the initial reasoning for this post: The fetishization and objectification of black people and culture.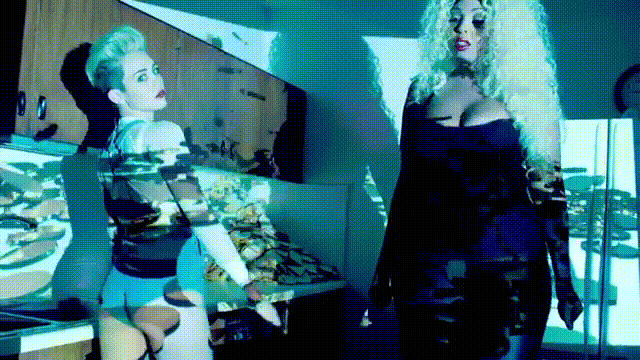 You can start to see some hints of the catastrophe that is about to happen in the We Can't Stop video right from the start, right when she puts on the grills. It all goes downhill from there. Less than a minute in we've established fetishizing and using black women as props.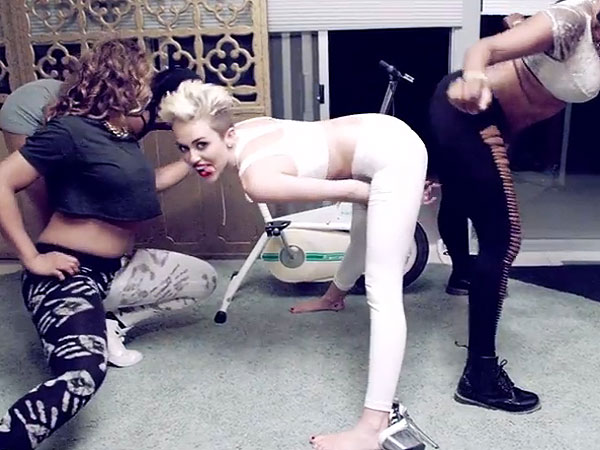 In the video, Miley is seen with her "friends": Mostly skinny white boys and girls who appear to be models. But in a few scenes, she's seen twerking with three black women. Are they also her friends? Or is she just hoping for street cred? Note that she is wearing white, in the spotlight, the star of the video — and they are treated as props, a background for her to shine in front of. We've

tackled

the

use

of people of color in the background

before

; it's a theme that persists, but remains wrong. In a white-centric world, putting white women quite

literally

in the center of the frame while women of color are off to the side is a powerful, disrespectful visual message, and it really must be said:

Human beings are not accessories

. These women might be her friends, but the general dynamic created is that she is in charge and they are in service to her. ----

(Source & good reading material)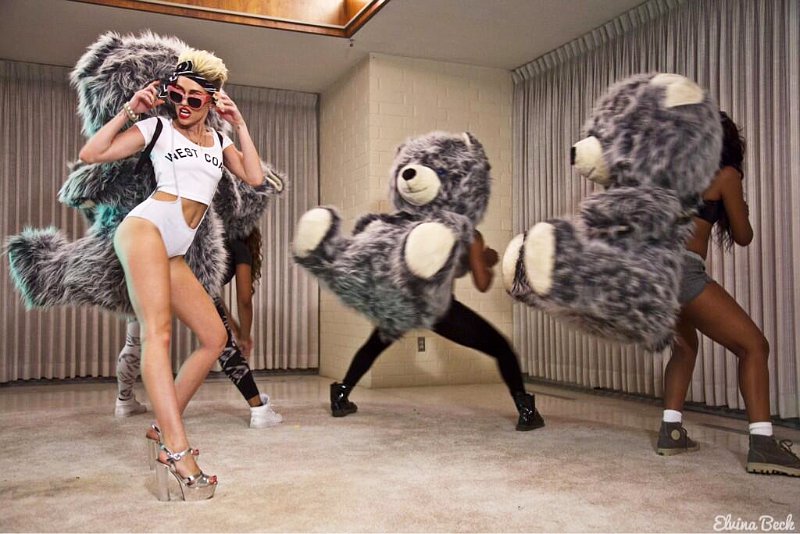 Why is it that we only see black woman when its twerk time? They're being sexualized by a society that already over sexualizes black women. Or that the majority of black people in the video are only present to make Miley look "hood". Let me tell you why: Miley is trying to change her image into one that will never work. The girl is, for lack of a better term, trying to be black. She told the writers of the song "I just want something that just feels Black

.".

News flash: You are not black, therefore you cannot be black & anything you try to create will never "feel" black either. There's nothing wrong with being inspired by the "black culture", but using it for you own profit is basically exploitation. The equivalent of Urban Outfitters exploiting another culture to please their mainly caucasian demographic.
Miley and her ilk need to be reminded that the stuff they think is cool, the accoutrements they're borrowing, have been birthed in an environment where people are underprivileged, undereducated, oppressed, underrepresented, disenfranchised, systemically discriminated against and struggling in a system set up to insure that they fail. -

(Source & good reading material)
You cannot live the lifestyle of a privileged white girl (thanks to your dad) and display a black girl front, you can't have the best of both worlds this time.
Note: My opinion on twerking might be due to me being black, I've noticed black people on social media literally don't care, yet for other ethnicities *coughwhitepeople* its the craziest thing and being able to do it apparently gives you a hood pass! Who knew?! But seriously, please. Please stop. Twerking is nothing new, people have been shaking their asses long before Miley was born. I don't even know why we've labelled it twerking, and why it's caused so much hysteria (I'm talking to the hashtag-white-girl-twerk-teams on Vine). It's nothing special. Yet here we are, calling it the new "IT" thing and letting booty-shakin gone wrong once again consume the media. If your eyes have been blinded my too many gone wrong booty movements, let me introduce you to it done right.
I would love to hear some thoughts on all of this.
Anyways, anyone know what's going on in Syria?