I really don't like the use of the word "adulthood" because its so void of meaning. What does being an adult even mean? How do you know when you've become an adult? When you're 18? When you're legal to drink? You pass from being 17 years old to 18 within a few hours and *big surprise* nothing changes. Adulthood is just a verbal shortcut. What I really mean is perception.
When you change, as a person, so does your perception. You see things from a different angle and understand things in a whole new way. Or maybe its perception that changes you. This applies to everything you learn, its why we still study History and novels in English classes. Its important. Not only do we discover new point of views, but we also grow to understand a little more about ourselves. Not to mention that a bit of maturity can go a long way when it comes to reading a book you didn't think you understood at first.
1. Catcher In The Rye
I never had to read this book in high school (which ticked me off), so I took it upon myself to do so. And...I didn't really get it. What I mean is, I started it, forgot about it for 1 month and restarted it. Forgot about it again and read it during my last months of high school. I guess that was kind of a good thing since it molded really well with the whole nostalgia of "growing up" that accompanied graduating. As they say, the third time's the charm. That time, I read along with John Green helping me out, and I didn't really notice a lot of the plot devices and symbols until he actually pointed them out and then I went
"oooohhhhohohohh! GENIUS!"
And things definitely started to make more sense to me. As a whole, this novel is really great, and it would be a shame to miss out on it because it didn't click the first time, like in my case.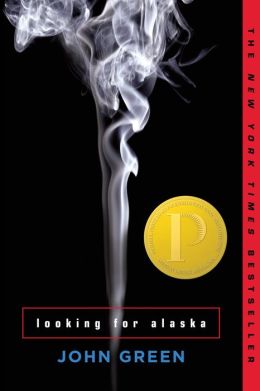 2. Looking For Alaska byJohn Green.
The first time I read this I was about to turn 16 years old and had never really heard about John Green except for the whole "drizzle/hurricane" metaphor everyone loves to use on tumblr. I read it and was angry. Why did he have to do that? SO UNNECESSARY to do
the thing
, I finished the book in one whole sitting and decided that he was overrated by the end of it. Fast forward a few months later, and see me re-reading it for the second time with a fresh pair of eyes. The next time I read it, I highlighted my favourite passages (something I
never
do!) and I think I started to really "get" what the book was about. Kinda made me look at books in a different way, not only are they there to tell us stories but they're also there to teach us about life. Thats deep, man. So maybe rereading this book a second time, if you didn't like it at first, is in order.
3.Perks Of Being A Wallflower by Stephen Chbosky
*This also has a stellar movie adaptation you should definitely watch
after
reading the book. Ok so I loved this book the first time I read it, in fact, I loved it so much that I read it about 2 more times and I grew to love it even more. It was after I left it alone for a few months and decided to reread it almost a year after the first time that I saw things a little differently. I picked up on certain things I hadn't ever noticed the first time and enjoyed it much more. It helped me cope through various life-changes and allowed me to know that I wasn't the only one having a not so great time in life.
4.Romeo and Juliet by this guy named Shakespeare???
Technically, its a play. But technicalities are irrelevant. In high school, I witnessed about two different opinions when it came to R&J. The first, was that the person hadn't bothered to read it/or only read it in class along with the teacher (nothing wrong with that, of course) and hadn't been moved by it in any way. The other opinion, is a newer, more hipster-ish. "Romeo and Juliet were two teenagers who met and "fell in love" a few days within meeting each other and who ended up killing themselves and a bunch of people, what's so great about that?" *Insert random guy in a fedora shouting: Still better than Twilight!*. When I hear that, I silently justify the play in my head. R&J were basically kids, yes, but times were different! We already covered this in grade school, people didn't live very long and so the cycle of life was a bit more sped up. Nothing in plays lasts very long, in most plays, everything happens within a few days, including falling in love. Can't we move past these technicalities for the sake of enjoyment? Because while actually reading the play, I loved it! And the dual suicide? Well, in good Shakespearian fashion, that's a tragedy. Honestly, some of my favourite lines ever written are from R&J and years later, I can still quote it. This play left an impact on me, and if you can muster up the energy to read this play through the perception of someone from a different time, you might enjoy it as well. (Or maybe you'll be appalled at R&J's selfish behaviour and the tale of two star crossed lovers that has been used in literature since the dawn of time that you'll want to pass. That's also a possibility)
5. Twilight by Stephenie Meyers
Plot twist! I know, why would I ask you to re-read
Twilight
, of all books. You shouldn't have even read it the first time! Ha! Well, this one is a bit more personal. Twilight was the book that started it all for me back in 2008, my seventh grade. I always loved books as a kid, but as I grew older, the library was
starting to become a bit too childish and it just wasn't working for me anymore. Twilight introduced me to a whole genre of books I never knew existed, Young Adult! There's literally a genre for everything. And so, my love for books restored, I discovered a whole slew of books, including The Mortal Instruments series, The Hunger Games, and Vampire Academy, all successful young adult series. I recently reread Twilight a few months ago during a transition-heavy moment of my life. Literally everything was changing, and the contrast between my seventh grade life and the one I was leading at the time was strong. It made me miss the good ol' days and provided a lot of nostalgia. Not only that, but Twilight really isn't that bad of a book. Sure, it has many flaws, just like any other young adult book, but its aiiiiigghht. There's no reason to get your panties in a twist if someone states it as a book they like. In fact, just like other books, you shouldn't talk bad about the Twilight books if you haven't read em. I suggest re-reading Twilight again once you're a little older to check up on a younger version of you and seeing how they're doing.
I suggested these 5 titles because they were books I never fully understood (I'm not talking about Twilight) or maybe because reading them again after so long helped me understand something new. I guess I either needed to re-read these after my perception had changed a bit, or maybe after they helped change it.
Does this mean I'm an adult?
Whatever, Peter Pan lifestyle 5 ever!
What books helped change your views on the world?